Healthy Diet and Healthy Weight
Whether you're trying to lose weight, get in shape or just live a healthier life, eating well has lots of benefits. From improving your health to saving you money, there are lots of reasons to eat well.
If you eat too many foods that are high in fat and sugar, and you're not as active as you should be, you're more likely to put on weight.
You can still enjoy the foods you love, by making some small changes and food swaps to help you cut back. Switching from dairy products that are full fat and high in sugar to ones that are low fat and have less sugar can really help
Very Brief Intervention
Ask
How important is it for you to eat healthily?
Empathise that this not always easy to eat the recommended 5 portions of fruit and vegetables per day but we can all cut down on fat, salt and sugar whenever we can.
Eating healthily and the right amount can help you feel your best, stop you gaining weight and lower your risks of getting some diseases.
When it comes to watching your weight, it's not just food you need to watch out for as some drinks can also be high in calories.
How would you most like to improve what you eat, if you could?
If the answer indicates a desire to increase fruit and veg into the diet then you may wish to signpost them to the NHS Choices '5 a day top tips' (in ACT section) 
If the answer indicates a desire for healthy food recipes then you may wish to signpost them to the Change for Life website which has some useful resources in for healthy meals and lunchboxes. (in ACT section)
Do you check the labels on food packaging when you are out shopping to help you make healthier choices?

What types of drinks do you have in a typical day?
Assist
Explain the some food manufactures and supermarkets display nutritional information on packed foods and this can be useful when comparing different food products
Front-of-pack labels, such as the label in the above image, usually give a quick guide to: 

energy 
fat content 
saturated fat content 
sugars content 
salt content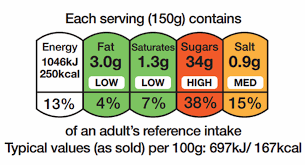 Some front-of-pack nutrition labels use red, amber and green colour coding
Colour-coded nutritional information, as shown in the image above, tells you at a glance if the food has high, medium or low amounts of fat, saturated fat, sugars and salt 

red means high 
amber means medium 
green means low 

In short, the more green on the label, the healthier the choice. If you buy a food that has all or mostly green on the label
Explain that the Eatwell guide below shows how much of what you eat overall should come from each food group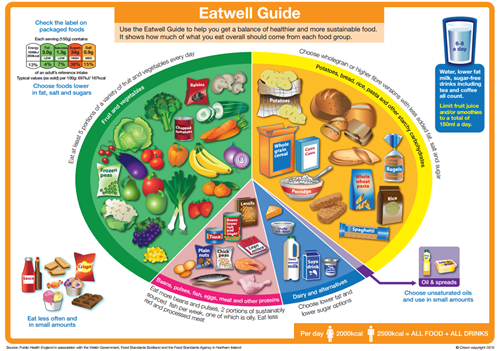 A balanced diet contains foods from all the five major food groups. The Eatwell Guide above encourages us to: 
eat at least five portions of a variety of fruit and vegetables every day 
base meals on potatoes, bread, rice, pasta or other starchy carbohydrates; choosing wholegrain versions where possible have some dairy or dairy alternatives (such as soya drinks); choosing lower fat and lower sugar options
eat some beans, pulses, fish, eggs, meat and other proteins (including two portions of fish every week, one of which should be oily) 
choose unsaturated oils and spreads and eat in small amounts 
drink 6-8 cups/glasses of fluid a day If consuming foods and drinks high in fat, salt or sugar, have these less often and in small amounts.
Would you consider swapping some high sugar drinks for low sugar alternatives?
Did you know that swapping one sugary soft drink with water can have huge benefits to your health.  One typical can of regular soft drink can have around 7-10 teaspoons of sugar which is around the 39 grams of sugar which itself exceeds the recommended maximum sugar intake for an average adult for a whole day.
Did you know that tooth decay from high sugary food is the biggest cause of hospital admissions among young children, would you be interested in some information on sugar swaps for food and drink?
Act
Self Care
The Public Health England 'One You' Website contains a wealth of information on different food choices and healthy recipes
Visit the healthy eating page on the 'Change for Life' website which has loads of great information about food and drink swaps for a healthier diet.
Try the new 'Be Food Smart app'! See how much sugar, sat fat and salt is really inside your food and drink - just by scanning the barcode from your mobile phone, Android and Iphone Apps available.
Visit the recipes page on 'Change for Life' has a  extensive list of recipes for breakfast, lunch, dinner and lunchboxes!
Healthy weight resources
These resources give health and social care professionals a core set of healthy weight messages from before birth to adulthood.
They consist of:
a set of infographics for use in practice
a set of training tools for consistent messaging:
These resources are designed to build awareness and understanding of the public health workforce and are not intended for direct use with the public. The training tools do include resource and reference lists for public facing information.
This suite of resources is part of Public Health England's All Our Health 'call to action' for health and care professionals.
Adults - Adult obesity: applying All Our Health - GOV.UK (www.gov.uk)
Also see other resources for other topics:
All Our Health is a call to action for all healthcare professionals to use their skills and relationships to maximise their impact on avoidable illness, health protection and promotion of wellbeing and resilience.
All Our Health e-learning sessions
Interactive All Our Health e-learning sessions, written by PHE and developed by Health Education England's e-Learning for Healthcare, are available to increase the knowledge, confidence and skills of all health and care professionals in embedding prevention in their day to day practice.
Local Support and Contact Details