About Us
Making Every Contact Count Community of Improvement
MECC Link has been developed by the Making Every Contact Count (MECC) Community of Improvement (CoI) for Yorkshire and the Humber. The MECC CoI is a defined strategic network owned and supported by the Y&H Association of Directors of Public Health and the Y&H Public Health England Centre. 
Our strategic network recognised that people who were trained on MECC could lose the confidence to start a conversation if they couldn't access to the information they needed to help them to raise awareness, motivate and signpost them to sources of support.
The answer was to develop a simple online solution that would enable MECC to happen.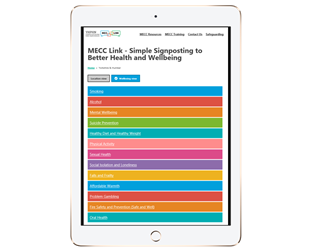 MECC Link development and rollout
In November 2018, MECC Link was re-developed so that other areas of the country could set up their own independent MECC Link regional website.  A new multi regional MECC Link website went live on the 01 April 2019.
For further information please contact  Chris Sharp, Workforce Development Manager, Y&H Public Health England Centre.  Chris.Sharp@phe.gov.uk
Check out our social movement #meccithappen