All Our Health
All Our Health
The PHE All Our Health framework (first published 2015, but evolving with latest updates in May 2019) is a framework of evidence and call to action to all healthcare professionals in England to help them understand and maximise the impact on improving health outcomes and reducing health inequalities.
PHE has published a resource about the framework and subsequent guidance around applying All Our Health to a variety of areas of health improvement, health protection, healthcare public health and the wider determinants of health, such as obesity, physical activity, workplace health, CVD and NHS Health Checks as well as many other topics.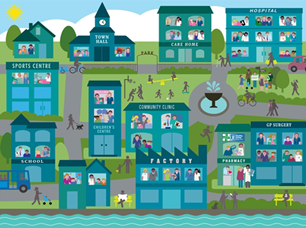 New e-learning for All Our Health
PHE and Health Education England have developed and launched new bite-sized e-learning sessions to improve the knowledge, confidence and skills of healthcare professionals in preventing illness, protecting health and promoting wellbeing. They cover top public health priorities and contain signposting to trusted sources of evidence, guidance and support to help healthcare professionals embed prevention in their everyday practice.